The Benefits Of Family Exercise: How Staying Healthy Together Helps To Strengthen Family Bonds
What started out as a fun activity for Danielle Roman two years ago soon became a healthy addiction for her entire family: family fitness activities.
At the time, the mother of three and a partner at an international law firm was looking for ways to overcome her physical and mental fatigue. Spartan racing sparked her interest and, not long after, her children's, too.
Doing sports as a family offers a plethora of benefits for parents and children, says Roman, who, having placed in the top three spots in seven Spartan races across Asia this year, will become the Spartan Ambassador for Hong Kong on January 1, 2020.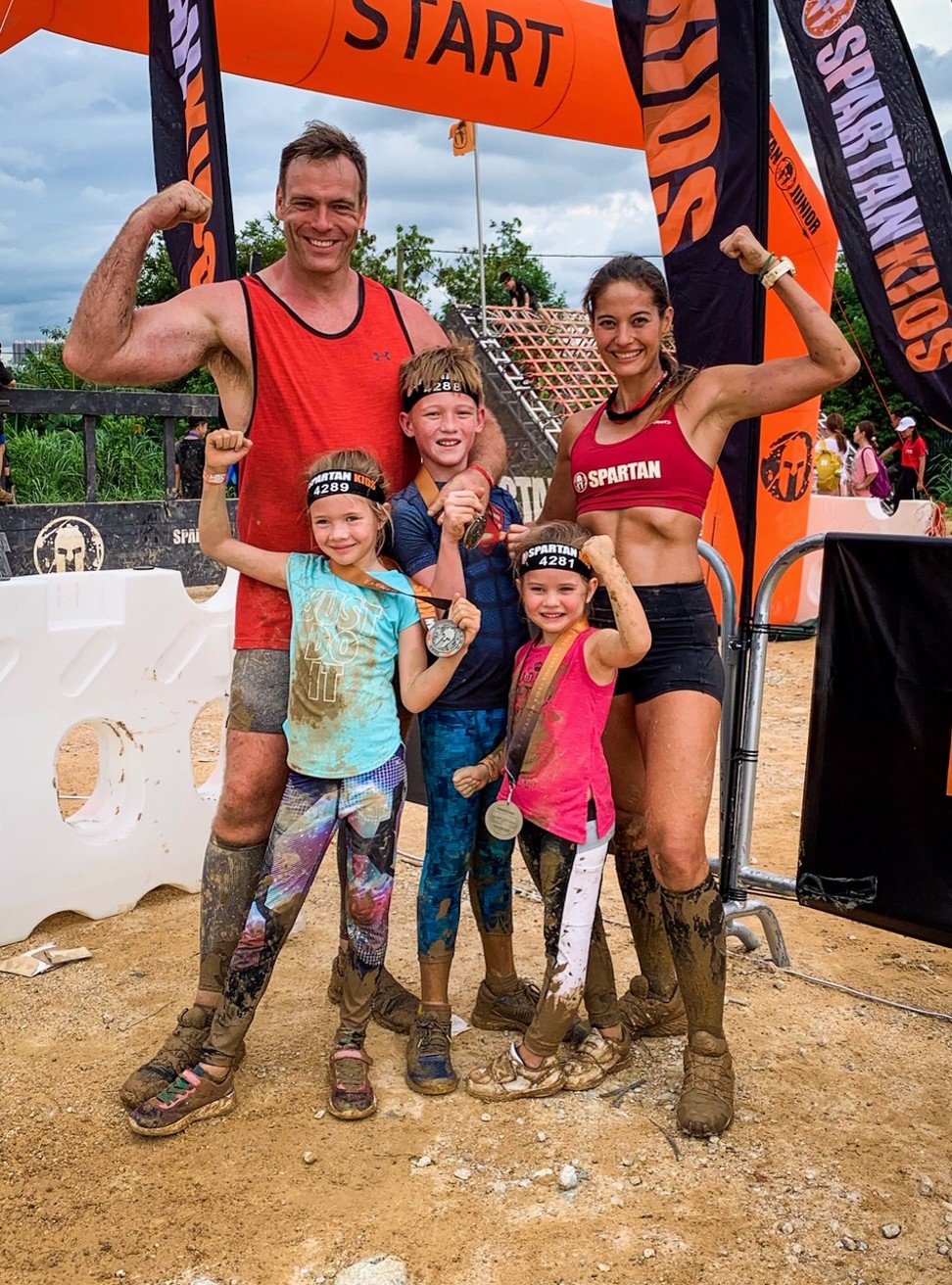 Roman's family takes part in races together. This year, they celebrated Mother's Day by doing a family Spartan race in Taiwan, Photo: Roman family
Given how busy Hong Kong parents typically are, family fitness activities creates uninterrupted time for them to be role models to their children and for each family member to bond.
"Sometimes when we run together, we talk about what has been happening at school, work or what is on our minds. Other times, we don't say anything at all, and just enjoy the closeness and comfort of each other's company. There are no interruptions, no phones or work emails or TV ... no distractions; just us together. That is real bonding," Roman shares.
Zosha Piotrowski, a holistic health coach and movement specialist, believes these bonds can last a lifetime. Passionate about equestrian sports, she frequently took her children, Orlando and Zsa Zsa, to the stables when they were infants. Now age 12 and nine, both children are skilled riders.
The family enjoy horse-riding together twice a week and often participate in events and competitions. Piotrowski's husband's love for rowing has rubbed off on them, too; water sports is a firm family favourite.
"As our kids get older, we will always have an activity or sport that we can do together no matter where we are or how old we are. While washing the horses or paddling out in open water together, we have some of our best chats about so many different topics. When you exercise together, you stop being a parent and more of a coaching buddy," says Piotrowski.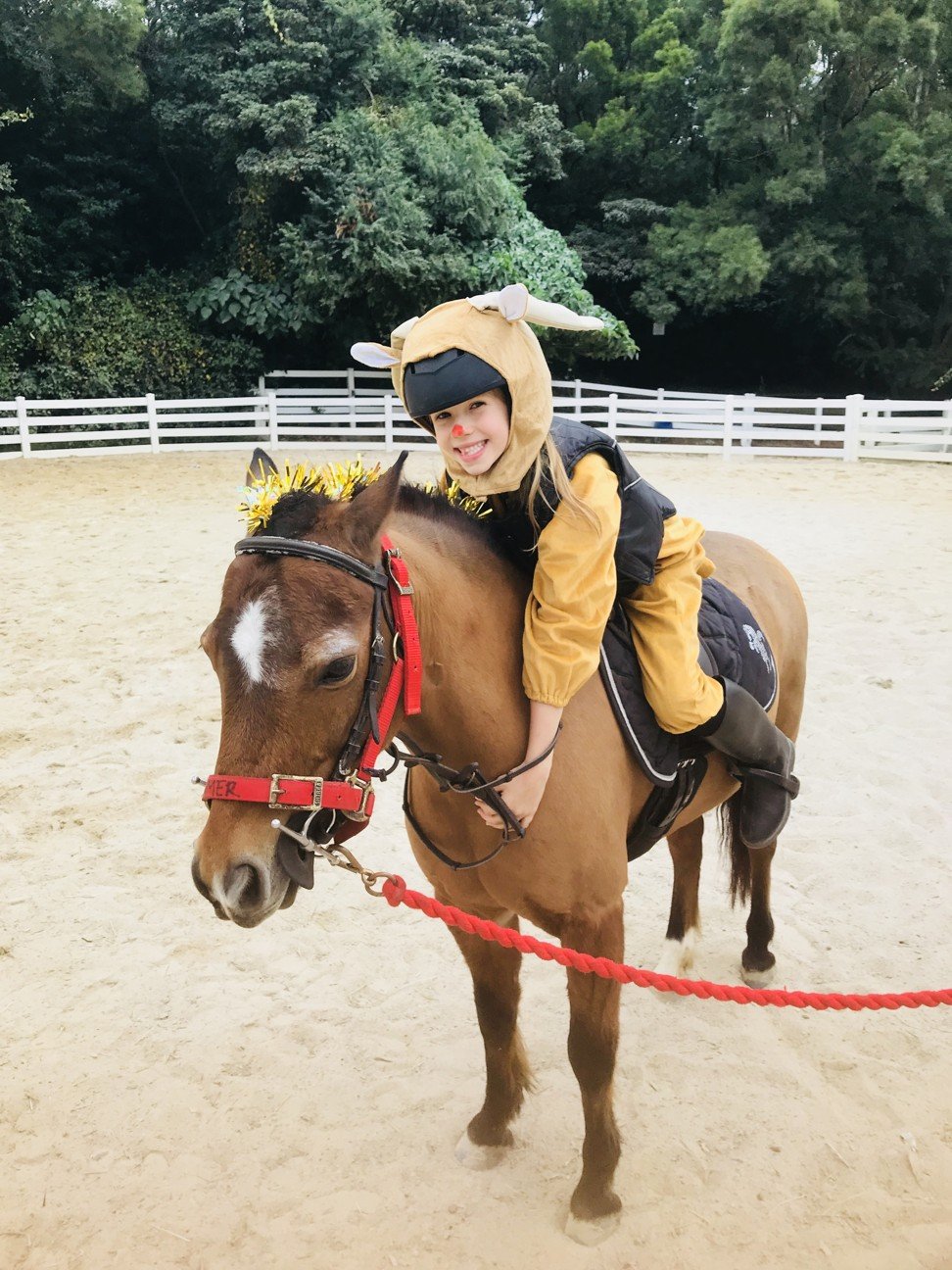 Zosha Piotrowski frequently took her children, Orlando and Zsa Zsa, to the stables when they were infants. Now both children are skilled riders. Photo: Piotrowski family
There's another significant benefit for parents, according to Piotrowski. Family sports help to keep parents fit and healthy and, as they age, it motivates them to keep up with their kids, she says.
But in Odette Umali's family, her kids, age 20 and 15, are still trying to keep up with their dad. From a very young age, Myka and Lucas' goal has been to beat their dad Jonathan in sprint races along Bowen Road on Hong Kong Island. A parenting instructor and founder of Gordon Parenting, Umali says she and her husband deliberately influenced their children to engage in sports to promote a positive mind-body connection and set them up for life.
"When children see their parents exercising diligently, regularly and enjoying it, they naturally become curious, interested and willing to try. It becomes a family habit and eventually, they pick it up on their own and they exercise by themselves. We feel exercise is important for the overall well-being of a person: a healthy body equals a healthy mind, a strong body equals a strong mind," says Umali, whose children are both competitive swimmers representing their respective schools.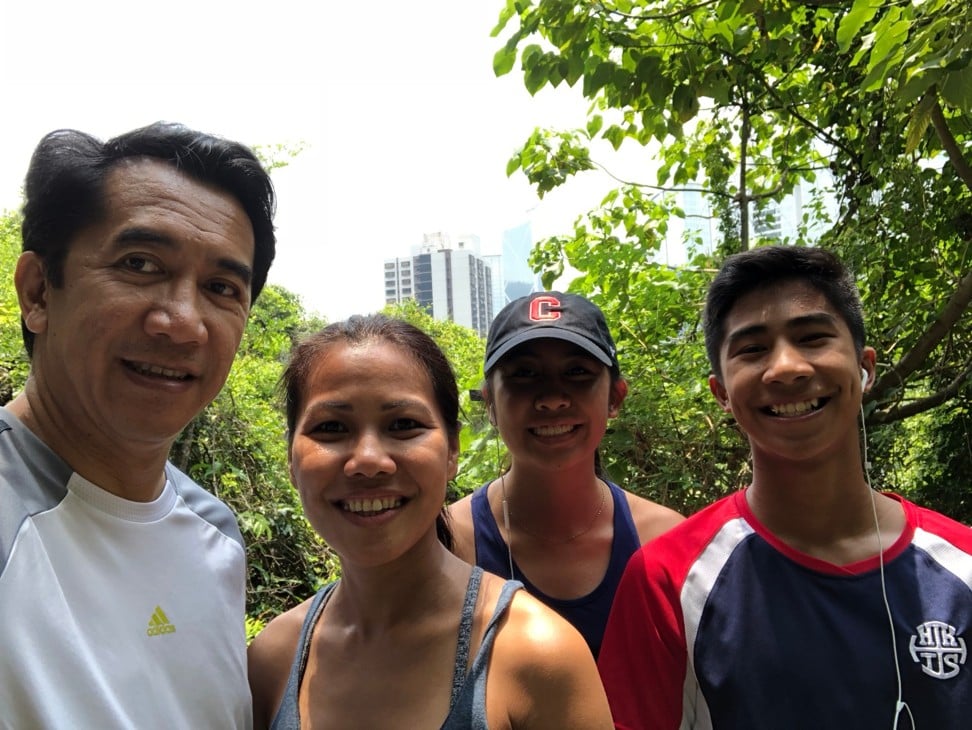 Odette Umali (second left) says she and her husband influenced their children to engage in sports from an early age. Photo: Umali family
Research proves Umali's theory. Numerous studies show that adults and young people who are physically active have a lower risk of developing depression. According to Norwegian research published in 2017, children as young as six years old receive the same benefits. The researchers examined just under 800 children, aged six. Two years later, the children who worked up a sweat by engaging in moderate to vigorous exercise and roughhousing showed fewer symptoms of depression.
Researchers have also linked exercise to better cognitive performance, including executive functioning " the way we manage ourselves and our resources to achieve our goals, and sharpen attention and memory.
According to Andrew Cox, director at Joint Dynamics physiotherapy clinic in Hong Kong, exercise is a sure-fire way to improve problem-solving skills too. His family has a special "off-the-beaten-track" route they like to take while hiking up the morning trail to The Peak.
"We have been going there since our kids were really young. It involves rock hopping, some scrambling and climbing. It's great to observe the kids problem-solving, learning about the challenges " and consequences " of foot placements on wet surfaces and unstable rocks, and their own sphere of movement confidence incorporating balance, stability and range of motion around their joints," says the father of Elie, age 11, and Xavier, age nine.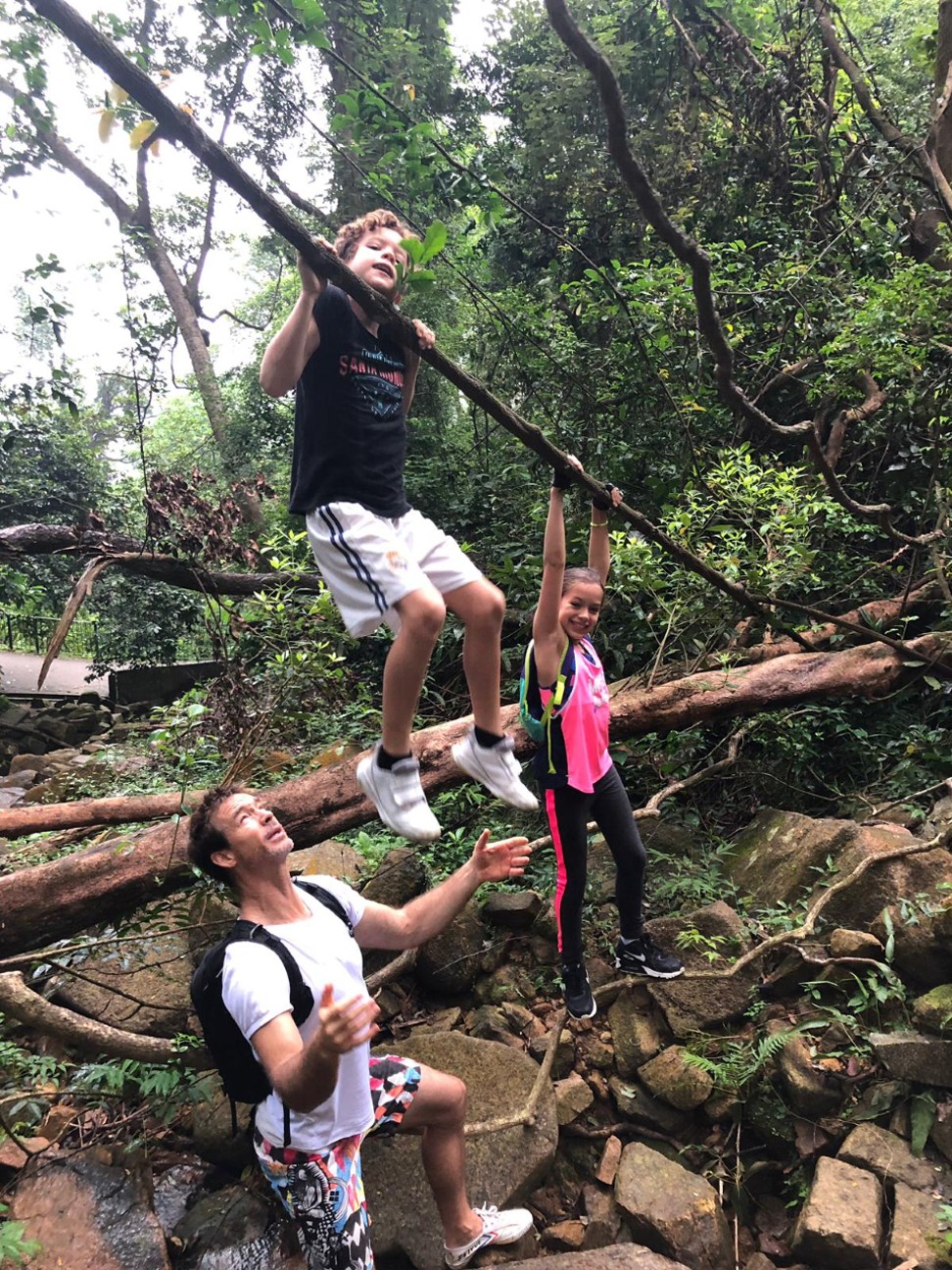 Andrew Cox says exercise is a sure-fire way to improve problem-solving skills. Photo: Cox family
Families can also reap the physical and mental benefits family fitness activities at home in their daily lives, Cox advises.
"At home, there is plenty of tickle time, wrestling and even boxing. We put on our boxing gloves; the kids stand on the bed, I stand on the floor, and we spar. Also, my son and I play soccer goalkeeper on the bed. I throw a softball and my son has to save a softball from hitting the wall. Both of these games are amazing for his reaction time and he always works up a sweat. The kids enjoy it; it's great for our bonding, and science validates the benefits of rough and tumble play."
Fun is an important ingredient of family fitness activities and it can help to overcome resistance, Umali advises. In addition to yoga, swimming, running, hiking and cycling together at home and abroad, the family likes to spice up the exercise routines with some fun, novel experiences.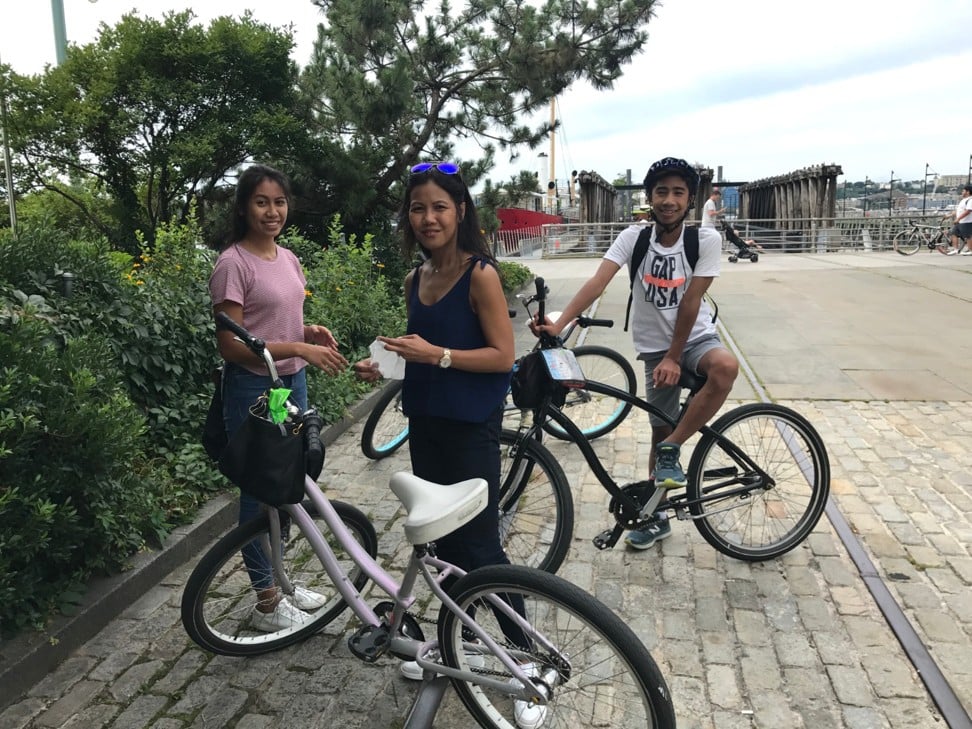 The Umali family fitness activities include swimming, running, hiking and cycling together at home and abroad. Photo: Umali family
"We once hired a hip-hop dance instructor to teach us all to dance. We rented a dance studio and went there over several weekends to learn a hip-hop dance. We recorded the complete choreography and shared with family and friends and had a good laugh doing it. Another time, we also agreed to learn sailing and water skiing together. We all enjoyed doing it together, laughing at each other and encouraging each other," Umali recounts.
Fear of failure or of being teased can deter children from taking part in sports, but words of encouragement from involved parents can help them to develop grit, resilience and perseverance, Roman says.
The first time they did a Spartan race together, she recalls how scared and nervous her children were. "They were intimidated by the number of other kids, and they were worried they would not win. I told them they were only in competition with themselves and that we would be right by their side to support them, but they would need the determination and grit to get through the obstacles.
"I remember Angelie " only four years old at the time " tripping up and starting to cry, before steeling herself, standing up and continuing to run," Roman shares.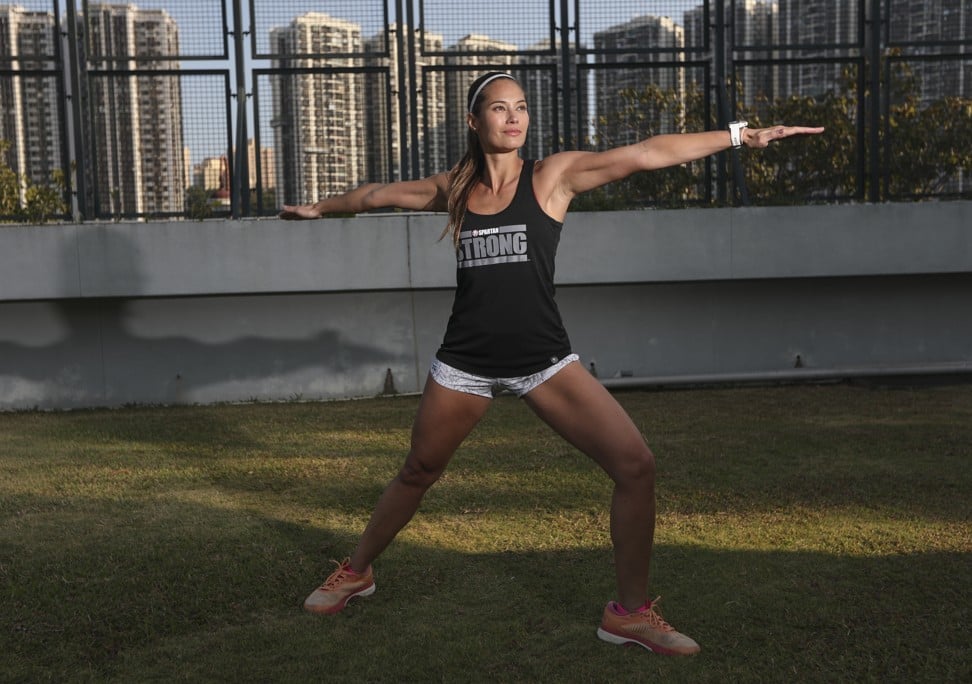 Roman says that, through her children, she is reminded that sports should be fun. Photo: Xiaomei Chen
Roman says that, through her children, she is reminded that sports should be fun. And in getting the family to race together, she wants to remind her children they should not be afraid to fail, they should only be afraid about not trying.
"I want them to take risks, be bold, adventurous and brave. In many ways, the lessons we have learned doing sports together have become important ones I hope they carry throughout the most difficult moments in their lives. These lessons simply can't be taught in a classroom."
This article originally appeared in the South China Morning Post (SCMP), the most authoritative voice reporting on China and Asia for more than a century. For more SCMP stories, please explore the SCMP app or visit the SCMP's Facebook and Twitter pages. Copyright © 2019 South China Morning Post Publishers Ltd. All rights reserved.
Copyright (c) 2019. South China Morning Post Publishers Ltd. All rights reserved.