Andie and Kate's top tip to stop their kids from having public meltdowns
Andie, who says he's the disciplinarian of the family, told us that he doesn't scold them but will "let them suffer the consequences of their own actions".
To parents with kids young enough to eat for free at buffets, nothing is more mortifying than witnessing your children having a complete meltdown in full view of the public.
And while that nightmare might keep parents back from wanting to bring their children out more often, that's not the case for celeb couple Kate Pang, 36, and Andie Chen, 34.
After all, the duo had their children well under control when they made an appearance at JCube's Fun on Ice event last Saturday (Nov 30), so we asked them to spill on how they keep Aden, 5, and Avery, 3, in check when they're in public.
Daddy Andie, who says he's the disciplinarian of the family, told us that he doesn't scold them but will "let them suffer the consequences of their own actions".
"If they're misbehaving outside, I'll bring them home immediately, so once they know the consequence of their behaviour, they'll stop being like a brat," he clarified.
Perhaps that's why Aden was as good as gold, well-behaved throughout the event. But it seems like Andie can't take all the credit.
With him being away on overseas shoots for his upcoming drama Ti Tou Dao, Kate has stepped up to keep order in the family, so much so that Aden immediately points to her when we asked who's the "fiercer" parent.
It appears like their co-parenting is working though, because it has allowed them to bring both kiddos out for "physical" activities like playing in the parks and playgrounds.
When asked to name his favourite activity, Aden replied without hesitation, "ice-skating", even though it was the exuberant kid's first time trying out the activity.
With the help of various animal-shaped aids, korkor Aden and meimei Avery skated alongside winners of AsiaOne's online giveaway, who got to pose for selfies with the obliging 'Kandie' family around the only Olympic-sized skating rink in Singapore.
"They're a very friendly couple as I've met them on a few occasions, they're always very smiley. A very warm family," said Michelle Ling, a business advisor who was there with her daughter Candice, 5.
It was a memorable evening of fun and bonding for all, as many of the kids present were also learning how to ice-skate for the very first time.
Gliding across the rink also sent waves of nostalgia to parents who grew up having fond memories of the place when it was still called Jurong Entertainment Centre.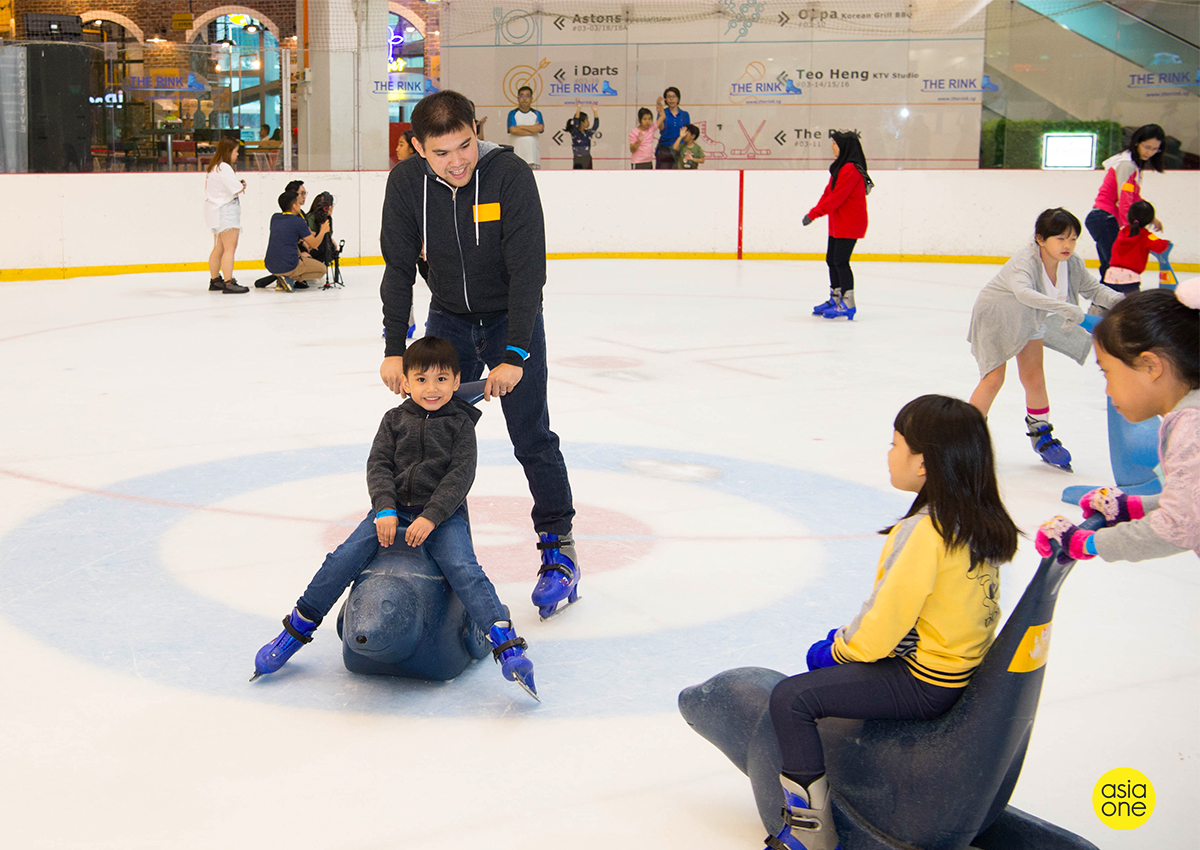 Andie recalled: "This is where I grew up, long ago, when it was called Jurong Entertainment Centre and this was where I spent all my secondary school [days] so I really like it back here. The rink was also back there then and now it's even better, newer, I love it." 
Wondering when you'll see them back on your screens? Andie has been working on a few feature films slated for a 2020 release while Kate will be in upcoming drama, 'Missing'.
If you're fans of Aden and Avery, Kate revealed that they have many exciting plans for next year, namely interactive workshops and talk shows with topics revolving around motherhood and the parent-child relationship.
Fun on ice with the Kandie family
The 'Kandie' family will be heading down to JCube again on Dec 7 for another session of the Fun on Ice event, located at The Rink, Level 3, so head on down if you'd like to catch a glimpse of the stars and their mini-mes. 
While you're there, don't forget to check out the newly-opened Don Don Donki and its 360-seat food court, which boasts a sushi bar and also heralds the return of Japanese takoyaki chain Gindaco to our shores.
Also Read: 5 totally Singaporean Christmas gift experiences that are worth your money
This article is brought to you in partnership with JCube.
This article was first published on AsiaOne and was republished on theAsianparent with permission.